China/Wuxi On November 2, TÜV SÜD Greater China Group (hereinafter referred to as "TÜV SÜD") provided the 210/182/166 series for Jiangsu Runda PV Wuxi Co., Ltd. Double-glass photovoltaic module products issued the first 2021 version of IEC61215 series standard TÜV SÜD certification. This series of photovoltaic module products of Runda Photovoltaic is the first product that complies with the latest IEC 61215:2021 and IEC 61730:2016 standards so far this year, and all indicators have reached the requirements of international testing and certification standards. It will further help Runda Photovoltaic to enhance its core competitiveness in the international market. Xu Hailiang, vice president of TÜV SÜD Smart Energy, Yan Dong, general manager of Runda Photovoltaic, and other guests attended the certification ceremony.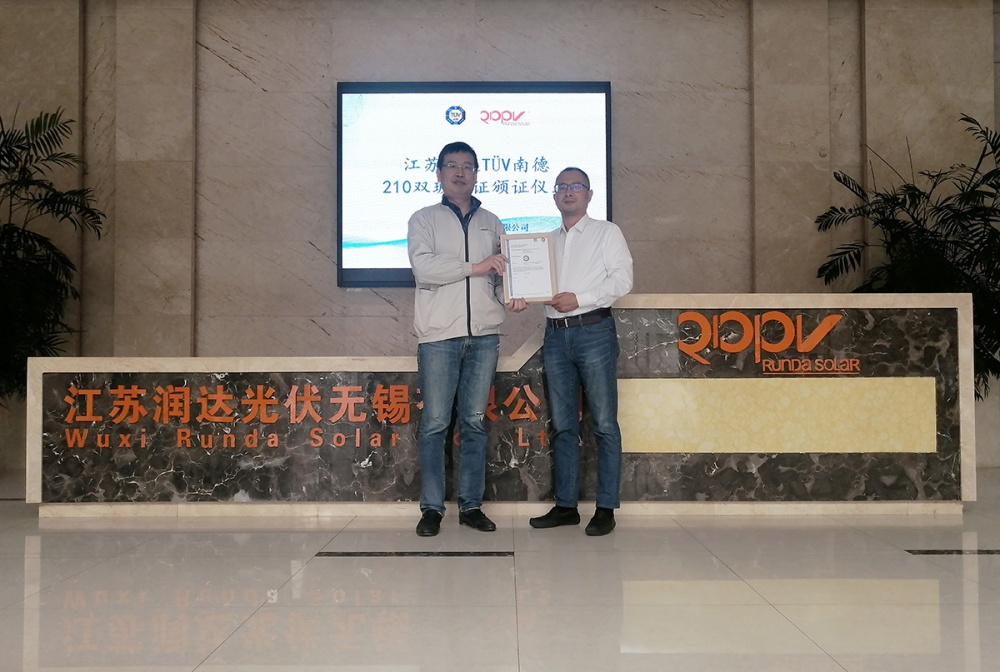 At the certificate awarding ceremony, Xu Hailiang, vice president of TÜV SÜD Smart Energy, expressed warm congratulations to Runda Photovoltaic for obtaining the certificate and mentioned: For the 210/182 double-glass photovoltaic module products of Jiangsu Runda, TÜV SÜD adheres to the consistent rigor and Efficient, follow strict certification requirements and procedures, and conduct a full set of reliability tests according to the latest IEC 61215:2021 and IEC 61730:2016 standards. The successful passing of the test and the acquisition of the TÜV SÜD certification are double recognition of the performance and reliability of Runda Solar's module products. TÜV SÜD looks forward to more opportunities for cooperation and exchanges with Runda Photovoltaic in the future.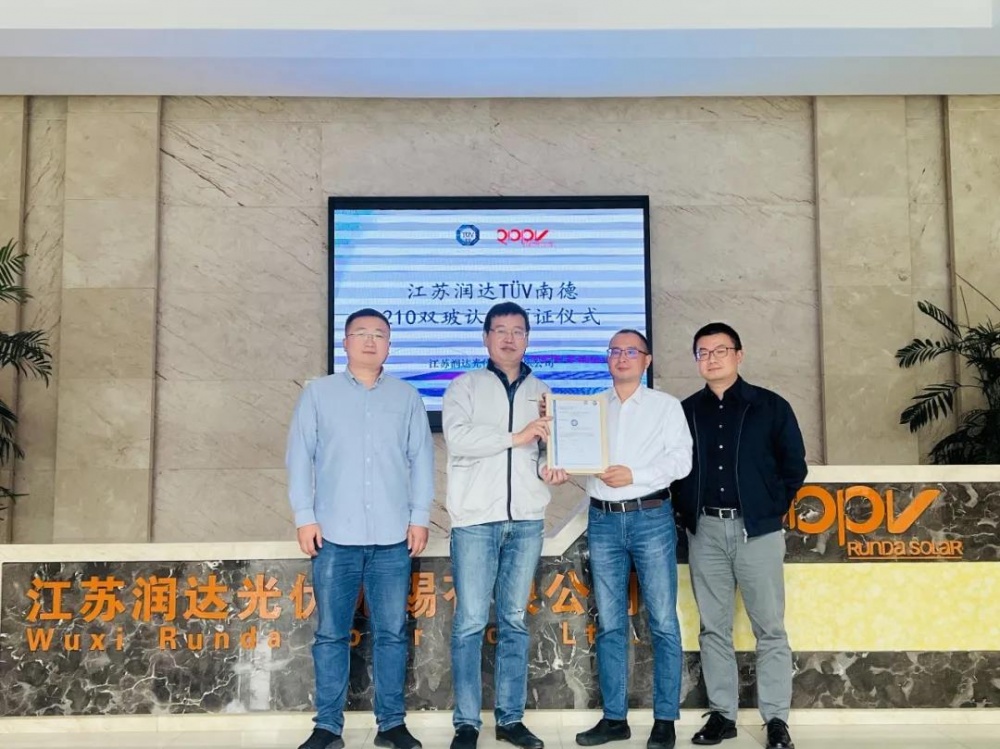 Yan Dong, general manager of Runda Photovoltaic, said: "Thank you very much for the comprehensive technical support of the TÜV SÜD project expert team. I am very glad that Runda Photovoltaic's 210/182/166 double glass products can successfully pass the professional test of TÜV SÜD. Runda Photovoltaic has become the first module supplier in the photovoltaic industry to obtain the latest standard certification. Runda Photovoltaic will be consistently committed to the development and manufacture of high-efficiency photovoltaic modules, focusing on product quality, creating more value for end customers, and cooperating with TÜV SÜD maintains long-term close cooperation to jointly promote the healthy and sustainable development of the photovoltaic industry.
About Runda Photovoltaic
Jiangsu Runda Photovoltaic Co., Ltd. is located in Wuxi, Jiangsu, an important industrial city in China. It is a high-tech enterprise based on the road of specialization, scale and internationalization, and is committed to building world-class solar photovoltaic modules. The world provides green, environmentally friendly and affordable clean energy. Jiangsu Runda Photovoltaic Co., Ltd. was founded in 2009. After 12 years of ups and downs, it has a modern factory building of 130,000 square meters and a sustainable development land of nearly 100 mu. The company is a listed company on the New Third Board, listed in May 2015, stock code 832391, currently employs 400 people, and has a management and R&D team composed of senior experts in the industry. The company's main business is the global sales and application of RUNDA brand solar products. The company's photovoltaic products are exported to more than 20 countries including Germany, the Netherlands, Japan, and Latin America. The company's module production capacity will reach 4.8GW this year. Runda Photovoltaic is committed to providing complete green energy solutions to global customers and contributing to the sustainable development of the world.
About TÜV SÜD Smart Energy
TÜV SÜD has been deeply involved in China's photovoltaic and smart energy for more than ten years, has rich experience in testing and certification, and can provide one-stop, multi-market technical solutions for the entire industrial chain from raw materials to system terminals. TÜV SÜD actively participates in the research and formulation of standards in the field of photovoltaics and smart energy, and provides testing and certification technical services for a large number of enterprises. It is the world's leading supplier of photovoltaic and smart energy product certification and testing service solutions.