SNEC The 16th (2023) International Solar Photovoltaic and Smart Energy (Shanghai) Conference and Exhibition (referred to as "SNEC Photovoltaic Conference and (Shanghai) Exhibition") will be held on May 24-26, 2023 in Shanghai New International Expo Center was grandly held.
  SNEC Photovoltaic Exhibition is the most professional photovoltaic exhibition in the world. Its exhibits include: photovoltaic production equipment, materials, photovoltaic cells, photovoltaic application products and components, as well as photovoltaic engineering and systems, energy storage, mobile energy, etc. Covering all links of the photovoltaic industry chain. The form of SNEC Photovoltaic Forum is also extremely rich and colorful, involving future market trend analysis of the photovoltaic industry, cooperative development strategies, policy orientations of various countries, cutting-edge technologies in the industry, photovoltaic finance, etc. It is the best opportunity to show the results to the industry.
  Runda Photovoltaic will also participate in the exhibition at that time. We also welcome all old and new friends to visit the site and communicate with us. It is worth noting that before May 1st of this exhibition, visitors can scan the QR code to register for free audience tickets, and fees will be charged afterwards. Please scan the QR code to register in time. (See the picture below for the QR code) For more exhibition information, please continue to pay attention to Runda Photovoltaic.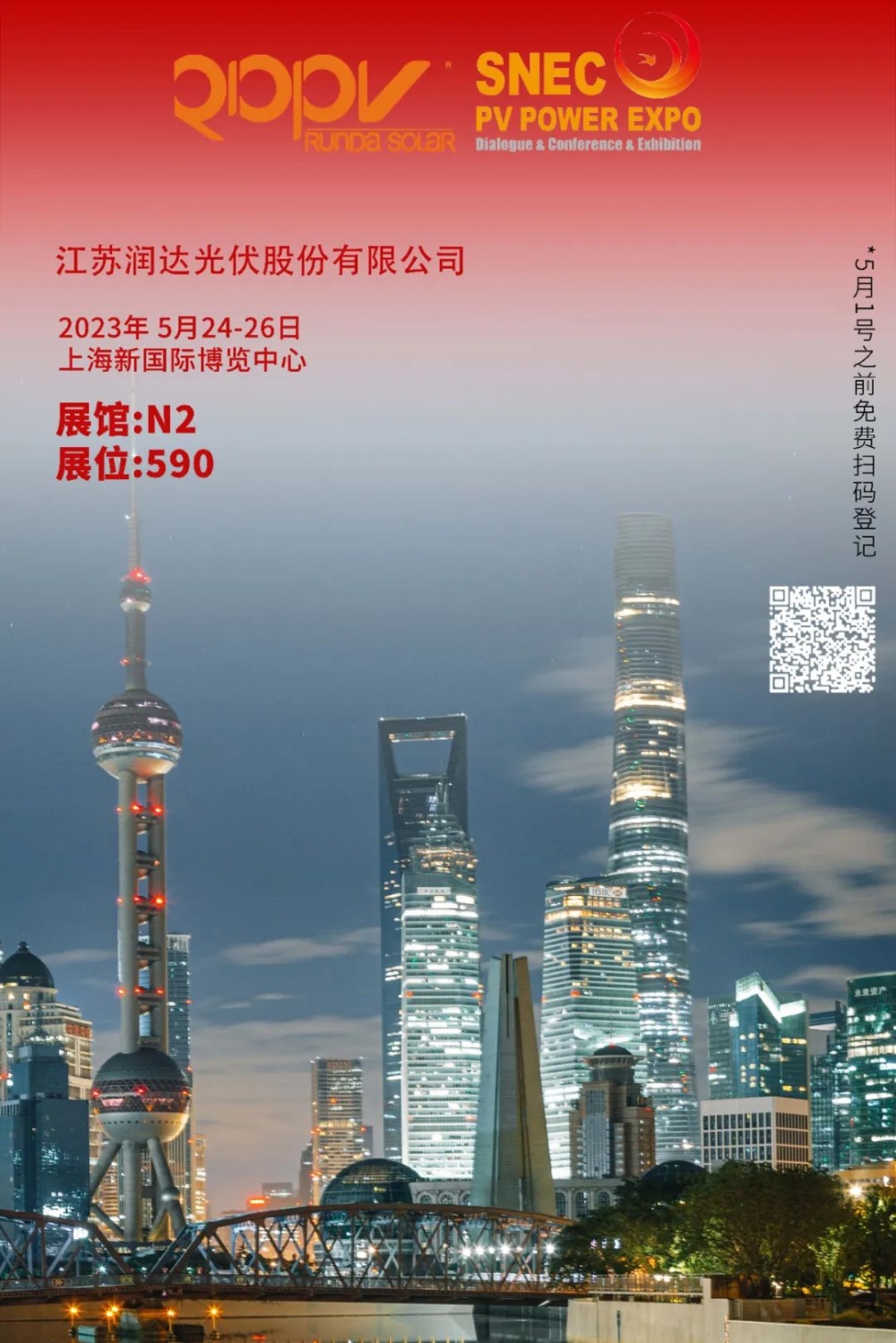 Jiangsu Runda Photovoltaic Co., Ltd. was founded in 2009. It is a high-tech enterprise based on the road of specialization, scale and internationalization, and is committed to building world-class solar photovoltaic modules. The company is a listed company on the New Third Board. It was listed in May 2015. It has more than 800 employees and a management and R&D team composed of senior experts in the industry. At present, the company's total production capacity has reached 4GW.
  Jiangsu Runda Photovoltaic Wuxi Co., Ltd. was established in 2016 and is located at No. 108 Yanxiang Road, Ehu Town, Xishan District. It is a wholly-owned subsidiary of Jiangsu Runda Photovoltaic Co., Ltd. The company is mainly engaged in the research and development, production and sales of solar cells, modules and related accessories. The company has introduced a complete set of solar cell module automation production lines with international advanced level; currently it has the design and manufacturing capacity of 550MW solar module products.
   Runda Photovoltaic Yancheng Co., Ltd. is a project invested by Jiangsu Runda Photovoltaic Co., Ltd. with an investment of 1 billion yuan and will be constructed in 2022. The project is located in Jianhu County, Yancheng City, Jiangsu Province, covering an area of 95.1 mu, with 80,000 square meters of new factory buildings and supporting facilities, the purchase of 1,132 sets of intelligent production equipment, and the construction of 8 photovoltaic module production lines. It is a highly intelligent and standardized production and R&D center built by Runda Photovoltaic to further improve production capacity and efficiency.